Fantastic Service Bundoora-Wide
"I've never written a review before but Mario was worth writing one for. He was friendly, great price and honest, providing a great service. I already recommended him 30 minutes after he left to family."
Cara D.
The worst thing that can happen on a hot day is to have your car's air conditioning break down or stop working altogether; leaving you in a car that is fast becoming an oven. Be comfortable behind the wheel, no matter the temperature outside, thanks to the proficient and professional mobile auto electricians at Chill Auto Air!
Drawing on over 20 years of focused and personalised experience in the industry, Chill Auto Air has the ability to repair and service the car air conditioning Bundoora motorists have in their vehicle.
Car Aircon Regas Bundoora
Being a mobile company, our auto electricians can deliver the "car air conditioning regas near me" that our customers require to continue to enjoy fresh and chilled air on the hottest days and the most humid nights.
Available at competitive prices, the car aircon regas Bundoora residents and beyond get from Chill Auto Air ensures that our customers are able to drive without putting themselves, or their passengers, at risk on exceedingly hot days.
Bundoora's Trusted Mobile Auto Electrician
At Chill Auto Air we know how important it is to the health and wellbeing of our customers to have the best climate control in their vehicles. On top of car air conditioning and car heater repairs, our experts stand out as the mobile auto electricians that Bundoora motorists can call on at a moment's notice for a responsive service.
Guaranteed Work from the Mobile Auto Electricians for Bundoora and Beyond
Our team of mobile auto electricians have Bundoora covered. If you don't have time to get to the mechanic, or don't feel safe driving there because of an electrical fault or suspected fault with your vehicle, then call our team and we will come to you!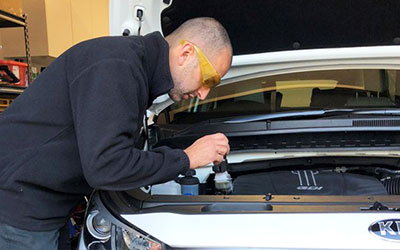 All our work is guaranteed, and performed by fully qualified auto electricians, so Bundoora locals never have to choose between convenience and quality again.
To keep your car in the best condition possible look no further than Chill Auto Air. Find out more about how we can help you by calling us on 0400 644 656.