Fantastic Service Doncaster – Wide
"I've never written a review before but Mario was worth writing one for. He was friendly, great price and honest, providing a great service. I already recommended him 30 minutes after he left to family."
Cara D.
Whether you use your car for the daily commute, or your job requires you to be on the road throughout the day, having a comfortable car in the summer months is essential to your health and wellbeing.
If you have been searching for mobile auto electricians in Doncaster who will come to you for car air conditioning repairs and service, then call the team of qualified technicians at Chill Auto Air.
Car Aircon Regas Doncaster
Having the refrigerant gas replaced can be a cost effective and efficient way to restore your car's air conditioning. Doncaster locals may be worried that the drop in performance of their car's aircon system signals larger problems that will hurt their wallet. However, often all that is needed to return their comfort is a routine car aircon regas. Doncaster locals who want to get in touch with a reliable company who can provide a car air conditioning regas "near me" can call the Chill Auto Air team today.
Doncaster's Trusted Mobile Auto Electrician
In addition to our air conditioner repairs and regassing, we can provide fast and efficient car heater repairs. In fact, our team of mobile auto electricians can provide a range of services for our customers in Doncaster and the nearby suburbs.
Wherever you're located, at home or at work, we'll come to you, and diagnose and repair electrical or air conditioner issues while you get on with your busy day.
Guaranteed Work from the Mobile Auto Electricians for Doncaster
We're proud to be licenced by the Australian Refrigeration Council (ARC) for all of our air conditioner repairs and regassing, and we are proud to guarantee all of our auto electrical repair work against fault. We want all of our valued customers to have confidence in the quality of our work, and to know that they don't have to sacrifice good work for the convenience of having a mobile service come to them.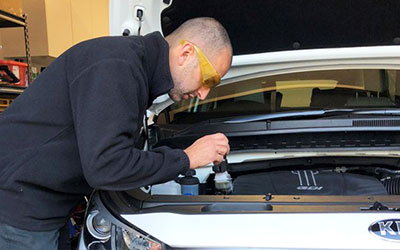 With over 17 years in operation, you can count on the Chill Auto Air vans to arrive with the diagnostic equipment, tools and replacement parts needed to handle almost any issue.
If you would like to obtain a quote or arrange for a visit from our mobile auto electricians, call us on 0400 644 656 or fill out the online enquiry form for a prompt reply from a member of the helpful Chill Auto Air team.