Fantastic Service Heidelberg – Wide
"I've never written a review before but Mario was worth writing one for. He was friendly, great price and honest, providing a great service. I already recommended him 30 minutes after he left to family."
Cara D.
Due to the potentially harmful effects of some refrigerant gasses, the supply and maintenance of air conditioning systems is closely monitored. We're proud to be licenced by the Australian Refrigeration Council (ARC) so you have every confidence that our work adheres to their high standards.
If you have been searching for a team of mobile auto electricians in Heidelberg who will perform car air conditioning repairs and services with respect to industry standards and best practice, call Chill Auto Air today.
Car Aircon Regas Heidelberg
For car air conditioning Heidelberg motorists can rely on even during the hottest months of summer, you need to have the refrigerant gas replaced at regular intervals. Ideally this should be done every two years to extend the life of your car's air conditioning unit and keep it free of impurities.
So if you are searching for a company who will provide your car's air conditioning regas "near me" then talk to us about the many benefits of having the refrigerant gas checked or replaced.
Heidelberg's Trusted Mobile Auto Electrician
We work throughout Melbourne's suburbs, delivering a mobile service so that our customers can get on with their busy days. If you would like to get a car aircon regas in Heidelberg, then our mobile auto electricians will come to you.
In addition to air conditioners, we can also provide car heater repairs in all suburbs. Don't let the name fool you. Summer or winter, you can rely on Chill Auto Air.
Guaranteed Work from the Mobile Auto Electricians for Heidelberg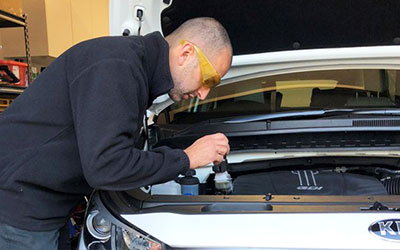 We understand if you're apprehensive about driving your car if you know or suspect it may have an electrical fault. If indicator or brake lights aren't working as they should, even a short trip can be anxiety-inducing. Simply call our team and we will come to you with the equipment and parts we need to provide auto electrical diagnostic or repair work.
Call the caring team at Chill Auto Air on 0400 644 656 to arrange an appointment, or fill out the online enquiry form and we will provide a quote or answer your questions.