Fantastic Service Greensborough-Wide
"I've never written a review before but Mario was worth writing one for. He was friendly, great price and honest, providing a great service. I already recommended him 30 minutes after he left to family."
Cara D.
Enjoy your drive without breaking a sweat thanks to the modern and professional solutions and services on offer from the experts at Chill Auto Air. With over 20 years of detailed and in-depth experience and training, we have the ability to change the way Melbourne motorists drive.
Fully qualified and licensed with the Australian Refrigeration Council ARCtick, our experts can deliver a car air conditioning service that is a breath of fresh air. Able to provide welcome relief during the oppressively hot days and sticky summer nights, our car air conditioning service makes long road trips on the holidays a possibility.
So, if you are after the best service and repair for your car air conditioning, Greensborough locals can look no further than the team at Chill Auto Air. As a mobile and family-owned company, our experts can deliver the best services and solutions for the best prices and without delay.
Car Aircon Regas Greensborough
At Chill Auto Air it is our ambition to provide a complete car air conditioning service to all of our customers living and working throughout Melbourne's metro area. Offering a mobile service available Monday to Saturday, we are able to come to you in a timely manner for a service of the highest satisfaction.
Integral to the optimal operation of your car's air conditioning unit, re-gassing tops up and replaces the refrigerant gas that cools the air, keeping the climate inside the car comfortable. Our approach to customer satisfaction makes us the "car air conditioning regas team near me" that Greensborough residents can trust for the best results.
To find out more about our car aircon regas, Greensborough locals can speak to our helpful and friendly team!
Greensborough's Trusted Mobile Auto Electrician
Prevent minor issues becoming major and costly complications thanks to the hands-on team at Chill Auto Air. As trusted and highly trained mobile auto electricians we have the ability to repair other electrical systems in your vehicle with ease and with safety.
Guaranteed Work from the Mobile Auto Electricians for Greensborough
Just as important as your air conditioner in summer, you want to be sure that your car's heater will perform well in winter. That's why our skilled team of mobile auto electricians also offer car heater repairs.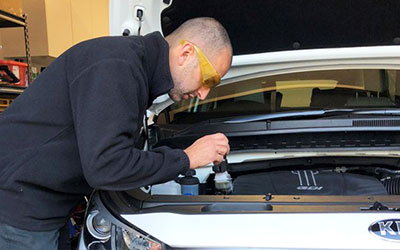 Whether there is a problem with the demister that means you can't get rid of condensation or light frost on a chilly morning, or the heater itself isn't performing as it should, you can count on our mobile team of auto electricians to diagnose and repair all manner of auto electrical problems.
To book a visit from our attentive and professional mobile team give us a call on 0400 644 656.