Fantastic Service Hillside-Wide
"I've never written a review before but Mario was worth writing one for. He was friendly, great price and honest, providing a great service. I already recommended him 30 minutes after he left to family."
Cara D.
Are you sweltering the moment the mercury goes above 25? Do you want to be able to drive in the summer months without putting you or your passengers at risk of exposure to extreme temperatures? Find relief without putting a strain on your bank account thanks to the experts at Chill Auto Air.
Drawing on over 20 years of industry experience, our dedicated and direct team can repair the faulty car air conditioning Hillside motorists have been struggling with. Offering a mobile service, we can come to your home, business, or wherever your car is, to deliver welcome relief from the heat, and all for an affordable price.
At Chill Auto Air we know the importance of delivering a service of the highest satisfaction. Being a family-owned company, we strive to provide a service that we would expect ourselves if the roles were reversed, so you can trust our team to look after you.
Car Aircon Regas Hillside
Enjoy the Australian summer without the oppressive heat thanks to the dedicated and advanced solutions and services on offer from Chill Auto Air. Licensed with the peak industry body, the Australian Refrigeration Council (ARC), Melbourne motorists can trust our team to complete the best services and solutions to comply with safety standards and regulations.
By completing a thorough and timely "car air conditioning regas near me" the team at Chill Auto Air can make sure your car's air conditioning system continues to put out cool air. To arrange for a cost-effective car aircon regas Hillside locals can give us a call.
Hillside's Trusted Mobile Auto Electrician
At Chill Auto Air we know how frustrating it can be when your vehicle's electrical systems are faulty. With our safe and reliable mobile auto electrical works, Chill Auto Air can ensure that your car continues to operate safely and according to specification.
Guaranteed Work from the Mobile Auto Electricians for Hillside
In addition to our car air conditioning repairs and services, our team of mobile auto electricians can come to your Hillside home or workplace and provide car heater repairs, or diagnosis for a range of auto electrical faults.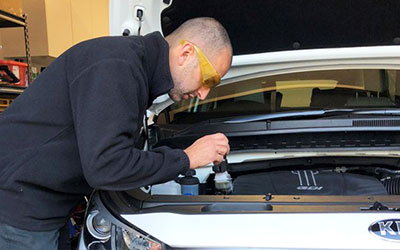 With a fleet of fully equipped vans, our team of mobile auto electricians serve Hillside and the nearby suburbs, ensuring that everyone can benefit from our services, even when they don't have time to take their car to the mechanic.
To book a visit from our team to get the best car heater repairs, give us a call on 0400 644 656.