Fantastic Service Burnside-Wide
"I've never written a review before but Mario was worth writing one for. He was friendly, great price and honest, providing a great service. I already recommended him 30 minutes after he left to family."
Cara D.
Drive without sweating all year round, thanks to the experts at Chill Auto Air. As a family-owned and operated mobile auto electrician company, our professional and passionate team know the importance of delivering the highest-quality service to Melbourne motorists.
Using only the best equipment and techniques, Chill Auto Air can complete the best repair and service of the car air conditioning Burnside motorists have installed in their vehicles.
As a mobile air conditioning company, Chill Auto Air can come to your home, business, or wherever your vehicle is, to restore your car's air conditioning to a responsive and high-quality condition for an affordable price.
Car Aircon Regas Burnside
At Chill Auto Air we know that while there are other teams who can provide "car air conditioning regas near me", we stand out thanks to our focused, personalised, and responsive service that is geared towards customer satisfaction.
Able to extend the life of your car's air conditioning unit, regassing replaces the refrigerant gas used by the unit to cool the vehicle, giving customers a fresher and cooler experience every time they activate the unit.
If they're not sure whether their car's aircon needs a regas, Burnside locals can call the Chill Auto Air team for an assessment. We are skilled in all areas of car air conditioning and heater repair so that our qualified technicians can expertly diagnose the issue before providing the perfect solution.
Burnside's Trusted Mobile Auto Electrician
At Chill Auto Air our decades of experience have given us a keen insight into the needs and requirements of motorists throughout Melbourne's metro area. As skilled and fully qualified mobile auto electricians, Burnside locals can count on us to improve the comfort of their driving experience.
Guaranteed Work from the Mobile Auto Electricians for Burnside and Beyond
As well as working on your car's air conditioning, with repairs & services to keep it running at it's best, we also perform car heater repairs, and can perform a range of other electrical diagnostic and repair works from our on-the-road van.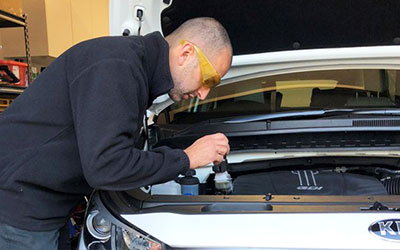 We understand if you don't want to drive your car when you suspect it has an electrical fault. Those dashboard warning lights can be a little vague and confusing, so if you would prefer to have a mobile auto electrician come to you, simply give us a call, or fill in the online enquiry form to request a call out to your home or workplace.
To bring out the best in your vehicle thanks to our advanced solutions and services give us a call on 0400 644 656.