Fantastic Service Taylors Lakes-Wide
"I've never written a review before but Mario was worth writing one for. He was friendly, great price and honest, providing a great service. I already recommended him 30 minutes after he left to family."
Cara D.
Find relief without putting a strain on your bank account thanks to the timely, efficient, and competitively priced solutions and services on offer from Chill Auto Air. With over 20 years of experience in the industry, and as specialists licensed with the Australian Refrigeration Council ARCtick, we can bring the best resolutions to faults with car air conditioning Taylors Lakes locals have been searching for.
Proudly offering our modern services and solutions at competitive prices, our experts can identify and address the issue with ease, ensuring that our customers can enjoy fresh and chilled air again in no time at all.
Operating Monday to Saturday, and Sunday by appointment, Chill Auto Air can provide a level of service that we would expect ourselves. Being a mobile auto electrician service, our team can come to your home, workplace, or wherever your car is, to ensure that you stay comfortable no matter how hot it is outside.
Car Aircon Regas Taylors Lakes
Have you noticed that the air coming out of your car's air conditioning unit is not as cold as it used to be? Is your air conditioner starting to smell? Able to complete the "car air conditioning regas near me" that Melbourne motorists require, Chill Auto Air can ensure that the air coming out of your air conditioning unit is of the highest quality and chilled to the right temperature.
For more information about our quality-guaranteed car aircon regas, Taylors Lakes motorists can get in touch with a helpful member of our team on 0400 644 656.
Taylors Lake's Trusted Mobile Auto Electrician
When it comes to faulty auto electricals you can't afford to attempt to fix it yourself. Avoid injury or making it worse by trusting the qualified and certified auto electricians at Chill Auto Air.
Guaranteed Work from the Mobile Auto Electricians for Taylors Lakes
In addition to car air conditioning repairs & servicing, and car heater repairs, our dedicated team of mobile auto electricians in the Taylors Lakes area can perform a wide range of auto electrical repairs.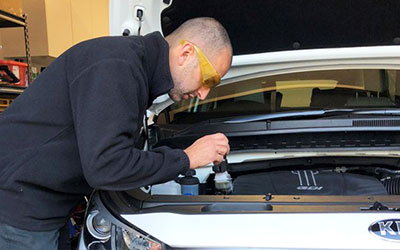 If an electrical fault light has come up on the dashboard then we understand your reluctance to drive the car to a mechanic that might not be convenient or nearby. We also understand that having a car towed to the mechanic is an expensive option for many, especially if it turns out to be for a minor fault fix.
Our team of mobile auto electricians will come to you, bringing the diagnostic equipment and tools we need for repair work that is efficient and guaranteed to be of the highest quality.
For a fast and affordable resolution to your air conditioning and car heater repair needs call us today!