Fantastic Service Reservoir-Wide
"I've never written a review before but Mario was worth writing one for. He was friendly, great price and honest, providing a great service. I already recommended him 30 minutes after he left to family."
Cara D.
Make your driving experience a pleasant one no matter how hot it is outside thanks to the timely and efficient solutions and services on offer from the experts at Chill Auto Air. With over 20 years of focused and in-depth experience and training, our Australian Refrigeration Council ARCtick-licensed specialists can repair or service the car air conditioning Reservoir residents have in their vehicle and for an affordable price.
Since starting our business, the family-operated company at Chill Auto Air has aimed to deliver a complete service to our customers throughout Melbourne for the highest satisfaction.
Offering a mobile auto electrician service, one of our specialists can promptly come to your home, office, or wherever your car is parked to complete our car air conditioning repair or servicing works without wasting time or money.
Car Aircon Regas Reservoir
Have you noticed that your car's air conditioning unit is no longer dispersing chilled or cold air? Find relief from this fault thanks to the fast and focused solutions and services available from Chill Auto Air.
In addition to our servicing and repair works our professionals can also complete the cost-effective "car air conditioning regas near me" that Reservoir motorists have been looking for.
A necessity for the effective operation of modern car air conditioning units, regassing ensures that the air that is dispersed is chilled. With our car aircon regas, Reservoir residents can continue to drive in the hot days and nights without feeling the heat.
Reservoir's Trusted Mobile Auto Electrician
Make sure your car operates according to specification thanks to the mobile auto electricians at Chill Auto Air. Available Monday to Saturday, and Sunday by appointment, our hands-on auto electricians can address not only air conditioning, but car heater repairs too.
Guaranteed Work from the Mobile Auto Electricians for Reservoir
With over 23 years of industry experience, we are proud to offer the guarantee of quality workmanship that gives our customers absolute peace of mind. You shouldn't have to sacrifice convenience for quality when having nagging electrical faults or air conditioning regassing seen to by a professional technician.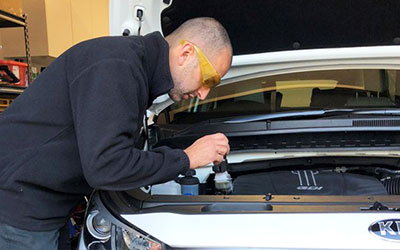 Now you can have your car seen to at a time and place that suits you, thanks to our dedicated team of mobile auto electricians. Reservoir locals can have their car air conditioning regassed to help them keep their cool during the warmer months, or their car's heater repaired for warmth in winter.
To make an appointment to have a member of our team come to you give us a call on 0400 644 656.