Fantastic Service Caroline Springs-Wide
"I've never written a review before but Mario was worth writing one for. He was friendly, great price and honest, providing a great service. I already recommended him 30 minutes after he left to family."
Cara D.
Has the air conditioning unit in your car started to fail to put out fresh and cool air? Have you noticed dust particles or other impurities being dispersed by the air conditioner when in use? Make your driving experience more enjoyable and comfortable every time you get behind the wheel thanks to the professionals at Chill Auto Air!
With over 20 years of experience in the industry, our family-owned company can repair the car air conditioning Caroline Springs residents have in their vehicle and for an affordable price.
From inspections to repairs, and even installations, our highly skilled and mobile team can come to you to ensure that you don't suffer in the summer months. More than just an issue of comfort, driving in hot conditions without a working air conditioner can impact your health. With our methodical approach we can improve the condition of the conditioner for a competitive price.
Car Aircon Regas Caroline Springs
Necessary for the safe and efficient operation of the air conditioner, Chill Auto Air can complete the car aircon regas Caroline Springs motorists need to enjoy cool and fresh air at the twist of a dial. As a part of the "car air conditioning service near me" that we offer to all of our customers we flush out the entire system, removing impurities or built-up gas, giving you a cleaner air conditioning experience everytime.
Caroline Spring's Trusted Mobile Auto Electrician
At Chill Auto Air we endeavour to provide our customers with a modern and responsive service that extends the life of their vehicle. As mobile auto electricians who are fully-licensed with Arctick we can make driving in the extreme heat a possibility.
Guaranteed Work from the Mobile Auto Electricians for Caroline Springs
When they are searching for a local auto electrician, Caroline Springs locals know they can rely on the Chill Auto Air team for all air conditioner and car heater repairs. But did you know that you can also call on our mobile service for a range of other electrical faults and concerns?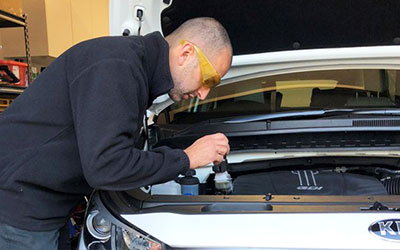 Whether the dashboard warning light is indicating you have a problem, or you have noticed a dimming in one or both of your headlights, call our team and we will come to you for expert diagnosis and repairs.
For more information about our car air conditioning and car heater repair services, give the experts at Chill Auto Air a call on 0400 644 656.