Fantastic Service Mill Park-Wide
"I've never written a review before but Mario was worth writing one for. He was friendly, great price and honest, providing a great service. I already recommended him 30 minutes after he left to family."
Cara D.
Get the drive that isn't hindered by the heat thanks to the professional and personalised services and solutions on offer from the team at Chill Auto Air. With over 20 years of detailed experience and training in the industry our family-owned and operated team can address the issues with car air conditioning Mill Park motorists, and others throughout Melbourne, are currently struggling with.
From servicing, to inspections, and even outright repairs, our fast and mobile team can come to you to deliver a complete service of the highest satisfaction and quality. Be comfortable behind the wheel thanks to the Australian Refrigeration Council ARCtick-licensed experts at Chill Auto Air!
Car Aircon Regas Mill Park
At Chill Auto Air we know the importance of delivering a timely and modern service to our customers across Melbourne. Along with standard repairs and maintenance, the car aircon regas Mill Park locals and beyond get from us keeps the air in their car fresh, clean, and most importantly: cold.
As the leading provider of "car aircon regas near me" Chill Auto Air ensures that the right gas is supplied for your unit and to the right levels.
Mill Park's Trusted Mobile Auto Electrician
Don't let just anyone work on your vehicle's electrics; trust the professionals at Chill Auto Air. Our training and proficiency with electrical systems makes us the mobile auto electricians for Mill Park motorists.
Guaranteed Work from the Mobile Auto Electricians for Mill Park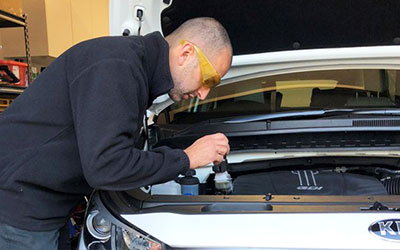 For a mobile auto electrical service that goes beyond just car air conditioning and car heater servicing and repairs, call on our trusted team. We guarantee all of our work for your peace of mind. Our mobile auto electricians bring many years of training and experience to the job, and we can come to you wherever you are located in Mill Park or the surrounding suburbs for a range of auto electrical repairs.
To learn more about our car air conditioner and car heater repair services or auto electrical work, give us a call on 0400 644 656.